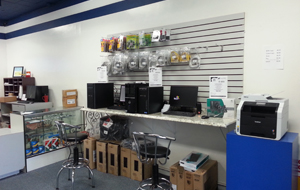 mcs TEK offers a complete networking solution for small and medium sized companies, as well as educational and government installations. We can design a new network for you, including equipment and software procurement, or troubleshoot and configure the system you already have in place.
BUSINESS CONTINUITY AND RECOVERY
Keep your business running in the event of unplanned disruptions: achieve continuous availability and access to enterprise information as well as continuous operation of critical business processes.
INFRASTRUCTURE AND SYSTEMS MANAGEMENT
Effectively manage your IT investments, improve operations, performance and maintain system availability.
MAINTENANCE
Keep your IBM and non-IBM hardware environment up and running with warranty service upgrades, break-fix and other maintenance options.
TECHNICAL SUPPORT
Plan multivendor systems and IT facilities, migrate and install new hardware and software, and stay operational with remote and on-site services.
OUR SERVICES TO YOU
Sales and upgrades
Cabling and networking
Networking LAN'S and WAN'S
On-site service
Service contracts
Repair and problem solving
Custom built systems with highest quality parts